When it comes to building concrete pavements that last, there are two major factors you should consider: long-term durability and heavy-duty load support.
But no matter how high quality the materials you're using may be, a traditional concrete slab comes with serious drawbacks that can impact the longevity of your project. As time goes on, the pavement structure begins to weaken. This can make it subject to cracking, sloping, and other damages that require costly repairs. Geocell has been tested and documented in numerous studies such as this one, to mitigate shrinking pavement and cracking without the use of typical reinforcement elements.
Thankfully, there is an innovative solution designed to save you time and money, all while increasing the strength of your pavement. It's called GeoCell reinforced concrete. Based on the results from numerous case studies on reinforced road pavement structures, BaseCore customers have come to rely on.
With a GeoCell reinforced concrete pavement, you can reduce the depth needed to complete your project and minimize future maintenance costs with just one simple installation. Using BaseCore geocell allows the elimination of formwork and reinforcement resulting in up to 25% cost savings.
On their own, GeoCell grids provide flexibility and permeability for projects of all sizes. Designed with a unique honeycomb-shaped pattern, GeoCells allow moisture to naturally drain away from the foundation of the structure they're built on. This alone can prevent erosion and make it easy to maintain your project in wet, muddy weather conditions.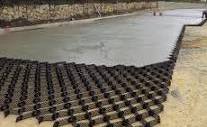 Why Use GeoCell Reinforced Concrete?
Additionally, GeoCells provide hefty load support for large vehicles, making them a top choice for roadways and parking areas. When combined with concrete, they create flexible pavements that are built to stand the test of time.
Here are the main benefits of using GeoCell reinforced concrete pavement…
Requires less concrete depth without compromising strength
Increases permeability and enhances erosion control
Prevents sloping and concrete displacement over time
Heavy-duty load support for both standard and commercial vehicles
Easy installation that streamlines the construction process
Average cost savings of 15 – 25%
Reduces long-term maintenance needs
When Should I Use GeoCell Reinforced Concrete?
One of the main issues that commercial construction projects face is the potential hazards associated with a weak foundation. That's why projects that are intended for long-term usage, or those that need extra load support, should be reinforced using GeoCells. In doing so, you can prevent your project from needing costly maintenance later down the line.
Some of the most common uses for GeoCell reinforced concrete are…
New roadways
Commercial parking areas
Residential driveways
Construction access roads
How To Install GeoCell Reinforced Concrete Pavement
If you decide to upgrade your project using GeoCell reinforcement, you'll be relieved to know that this system requires only a simple installation process, so you won't need to waste any additional time or resources.
Here's how to install GeoCell panels for concrete reinforcement…
Clear The Area
Like any other construction project, you'll need to fully clear your work area before installing your GeoCells. This includes any debris that may get in the way of your finished pavement, like tree limbs, bushes, or underground wires.
Level The Ground
Since GeoCells require less depth than other reinforcement methods, you won't need to spend as much time excavating for your project. Instead, just a few inches of depth will be enough to fully install your panels.
Install GeoCell Panels
Next, you can install your BaseCore GeoCell reinforcements. These panels come with an interlocking design that can be secured into place using BaseClips to connect the panels and BaseCaps on top of 1/2″ rebar stakes. And if your GeoCells extended further than they need to, you can easily trim them to meet your special needs.
Add Concrete Mixture
Finally, you can pour your fiber-reinforced concrete mixture over your GeoCell panels, with the cell depth of the geocell providing an exact measurement for the surface finishing of your concrete.
Geocell Reinforced Pavement FAQs:
What type of rock can I use in pavement base construction?
While there are many options in terms of pavement materials, basalt rock is most commonly used in road construction. That's because basalt contains a low silica content, which makes it easy to be compacted into bricks, tiles, foundations, and other construction materials.
What other pavements are reinforced with GeoCells?
In most cases, GeoCells are used to reinforce pavements that are built on sub-par substrates. This includes loose soil, which is not durable enough to support road construction on its own.
What are other uses for GeoCell grids in construction?
There are many uses for GeoCell grids in both commercial and residential construction projects, thanks to their versatility and simple installation process. Besides concrete reinforcement, you can use GeoCells as a foundation for…
Parking pads
Small structures like sheds or storage buildings
Landscaping areas
Construction site access roads
Horse footing
Where Can I Find GeoCell Reinforcements?
Having a strong foundation can make or break the longevity of your pavement.
BaseCore is a leading provider of GeoCell reinforced concrete solutions, including our comprehensive ground grid systems that can be tailored to meet your project's unique needs.
Connect with us to learn more about our high-quality GeoCell panels today.